Elastomeric insulation is a type of cryo-thermal insulation that due to its closed cell structure makes it resistant to pollution, moisture, water vapor and heat. These insulators are more used in industry due to their light weight and high flexibility, for example in air ducts, large pipes, automotive industry, etc.
Application of elastomeric insulation
Due to their high resistance to heat and cold, this type of insulation is used to insulate building installations, hot and cold pipes, ducts, boilers, shed roofs, etc.
There are two types of elastomeric insulation, which include pipes and rolls or sheets, each of which is described below:
1- Roll or sheet elastomeric insulation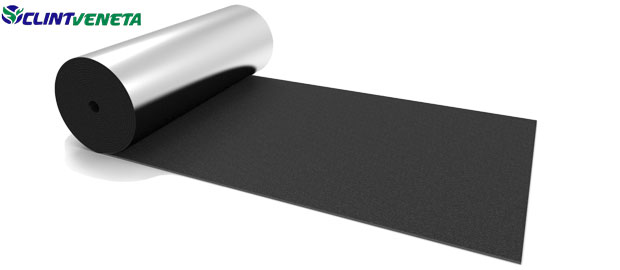 This type of insulation is available in different thicknesses, which is used according to spatial and climatic conditions. One of the advantages of this mold is its easy installation in indoor and outdoor spaces of the building. These insulators are also a good alternative to fiberglass, which with their closed cell structure prevent energy loss and increase the life of building installations.
types of elastomeric insulation of roll or sheet :
Simple roll elastomeric insulation
This insulation is light weight and is used for insulation of indoor air conditioning systems, because simple roll elastomeric insulation has a very high resistance against the growth of fungi and bacteria, chemicals, dust and moisture.
Coated and uncoated elastomeric roll insulation
Uncoated elastomeric insulation can be used for insulation inside the building, but not for outdoor space, because due to the changing climatic conditions, the insulation outside the building should be such that against radiation, moisture, dust and … Be durable.
Aluminum-coated insulation is one of the examples of this type of coated insulation that can be used in insulation of tanks, heating systems, hot and cold pipes and refrigeration systems.
oval shoulder roll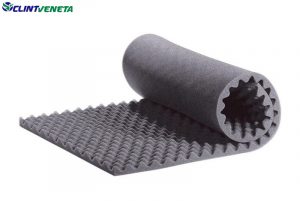 This type of insulation is mainly used as sound insulation and due to its cellular structure and porous surface, it can be a good insulation for sound. It should be noted that oval shoulder insulation is used in two types, simple and corrugated, and both adhesive and non-adhesive.
Black Protect elastomeric insulation
This insulation, which is coated with Black Protect, is a type of thermal insulation that has a flexible and non-porous structure and due to its high resistance to water vapor, moisture and pollution, it can be used to isolate places where the level of moisture and pollution is high. Also used to insulate air conditioning systems.
Simple adhesive back
Today, to save time and money, instead of using traditional insulation, which is a time-consuming process in the construction industry, adhesive back insulation is used, which is very quick and easy to install.
insulation with threaded adhesive back
In cases where the dynamic load is present and the insulated surface is moving, this type of insulation is used because there is a need for higher tensile strength.
2- Tubular elastomeric insulation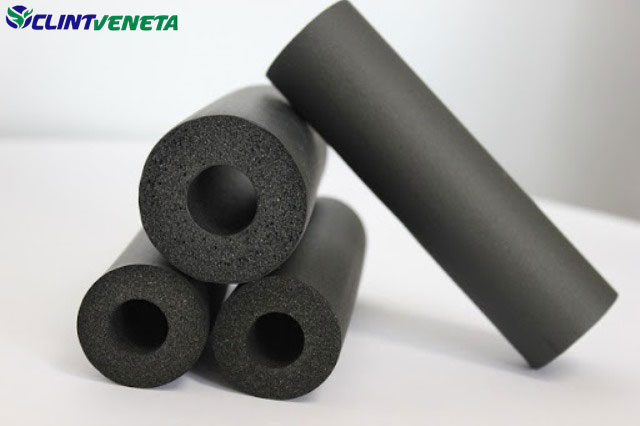 This insulation is considered as a thermal and cryogenic insulation that prevents condensation and freezing in cold water pipes and also prevents the reduction of temperature and heat in heating systems. Also, pipe  insulation prevents metal pipes from rusting in atmospheric conditions. Elastomeric pipe insulators are available in thicknesses of 9, 13, 19, 25 mm.
Types of tubular elastomeric insulation
Simple tubular
It is an excellent protector against mold, mildew and energy loss in industrial, residential and commercial projects and is used for insulation of hot and cold piping and their connections indoors.
Aluminum-clad tubular elastomeric insulation
This type of insulation is used to insulate piping systems and pipelines for the transfer of fluids and gases in outdoor spaces that are exposed to direct sunlight.
It is worth noting that the thickness of the aluminum coating in elastomeric tubular insulations is 130, 170 and 230 microns, and these insulators are also available with aluminum reinforced with fiberglass.
Elastomeric pipe insulation with black and silver protection coating
This type of insulation is available in sizes from 1.4 inches to 4 inches and in thicknesses of 6, 9, 13, 19 and 25 mm and can be used for all types of steel, copper and multi-layer pipes.
You can visit the Clintveneta product store page to get the elastomeric insulation you need and contact us to buy or get more information.