Description
Elastomeric insulators do not need to be covered for use in indoor environments, but in external applications, it is better to use elastomeric thermal insulation with aluminum coating, which has the required resistance against mechanical shocks and weather conditions. In fact, in open environments due to the resistance to U.V rays, elastomeric thermal insulation rolls are covered by plain aluminum or reinforced with fiberglass thread with thicknesses of 130 microns to 230 microns according to the customer's needs. Fiberglass thread increases the strength of elastomeric insulators and prevents tearing.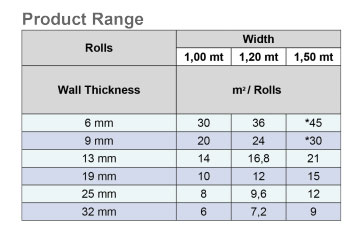 Advantages of using Aluminum Rolled Elastomeric Insulation:
The vapor barrier of the inner layer prevents condensation and reduces energy loss by 87%.
Elastomeric insulation is light and flexible and is easy to install, saving time and money.
It has a very high resistance against oil and chemicals.
It has high durability and long-term thermal performance.
Prevents the growth of mold.
Elastomer foam provides indoor air quality and health and is dust-free and fiber-free.
Application of Aluminum Rolled Elastomeric Insulation:
Hot and cold water services
Cold water lines
Air conditioning ducting
Heating systems